Do you already imagine yourself in faraway places, with a delicious cocktail that is brought to your lounger? Above your head, the palm trees rustle in the wind and your shirt is off batik fabric flows nice and lightly around you. Waking! Unfortunately, such a holiday is not there every week and you are now probably just working. To give you a bit of a foreign feeling, we have listed 3 Indonesian drinks for you. With very good news: you can make them yourself!
Tjendol: wonderfully sweet with a tropical touch
An Indonesian tropical drink with coconut milk! You can make this drink yourself in just 30 minutes. And it is tasty !! So put on your batik shirt, which you can also buy in the Netherlands, and get started in Indonesian style. Mix 100 grams of rice flour with 50 grams of sago flour and add some water. Boil 400 ml of water with green pandan leaves and a little salt! Mix the flour with the water and cook to a thick paste (this is called cendol). After this you press the cendol through a sieve so that it comes out like spaghetti. In Indonesia they call this 'snotjes', isn't it? Quickly put the 'snots' in a bowl of ice-cold water to make it hard. Have you succeeded? Now you boil 200 grams of Amanprana Gula Java Brut in a pan with water, creating a syrup. You take turns pouring the cendol, syrup and coconut milk into a glass so that you get a beautiful and delicious whole of flavors. Add some ice cubes and serve!
Bantrek: delicious Indonesian tea
In Indonesia they love tea! Hot tea with many herbs, but also cooled tea with all kinds of unique flavors. Not to be missed in the list of delicious teas: Bantrek. A tea with, of course, a lot of herbs. You need: 1 liter of water, 200 grams of Gula Java Brut, 100 grams of fresh ginger, a cinnamon stick, pandan leaves, 5 cloves and a pinch of salt. You put all this together in a pan and bring it to a boil. Let it cook for a while so that all flavors are well absorbed and sieve it all. You are left with a delicious spicy tea that you serve over 4 tea glasses. To enjoy!
Es Kelapa Muda: tropical coconut drink
For this delicious Indonesian summer drink you need: a coconut, rose syrup and shaved ice. It can be that simple! First, take the coconut and cut away some of the bark at the bottom until you feel you are almost cutting the flesh. You will then see three circles. You pierce this with the tip of a knife and put the coconut upside down over a bowl to collect the coconut water. Then crack the coconut and scrape out the pulp. You cut this fine. Pour a dash of rose syrup into four glasses, add the pulp and coconut juice and some shaved ice at the end. If you don't imagine yourself in the tropics… How delicious this is!!
Nice cold Bintang beer!
Something that you cannot make yourself, but is very tasty: Bintang beer! Bintang is a well-known Indonesian beer brand and it means 'Star beer'. The beer has been brewed in Surabaya, Indonesia since 1929 and is extremely popular in Indonesia, Bali and the surrounding islands. Bintang has even inspired ADUH when designing clothing. Would you also like to look cool in a sustainable shirt made of organic cotton? Shop it Bulan Beer shirt.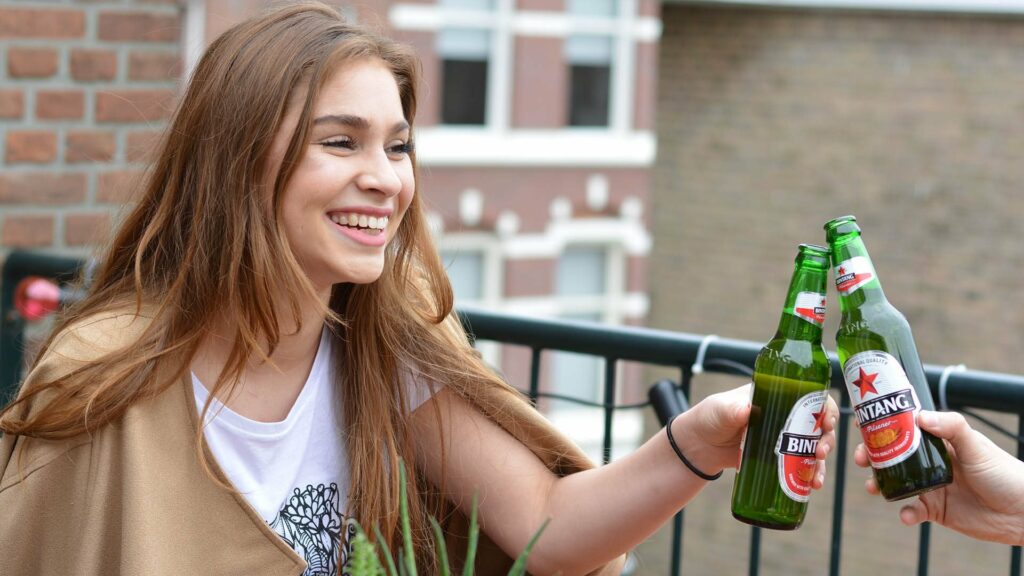 Fair trade clothing with Indonesian roots.
Just this: our sustainable clothing is inspired by the Indonesian lifestyle and clothing style. For example, we use organic cotton in our clothing lines and we have a number of typical Indonesian garments in our collection. Think of a shirt made of batik fabric, which is made according to an age-old dyeing technique. Nice to tell you in advance: we will have it in our collection next year. Of course we also want something from the background of our fair trade clothing shop show. That is why we regularly share inspiration about Indonesian culture on our blog. Which is great fun for you and you get an even better picture of what Indonesia has to offer in terms of clothing and culture!